Kyle Deck Contractor understands the home is meant to be one's ultimate safe and happy space. For these reasons, people work hard to improve their home so it can be the place they want to be with their families. At the core, home renovations are not only for aesthetics but really to create that place of security, comfort, and happiness. However, homeowners do not just focus on renovations inside the house. More and more, people have realized the great benefits of outdoor additions such as a deck, pool deck, pergola, and covered patios. They have a vision for what they are doing and what they want to accomplish.
Our Services
The installation of a deck, swimming pool deck, or a pergola may appear quite daunting, especially if it is the first outdoor addition project for your home. However, with a reliable deck contractor, pool deck contractor, and skilled builders, such a project will most definitely be worth it. For one, a deck provides you with more space that may be used for cooking, eating, or lounging. Decks are an excellent place for a summer party with friends or a family get together. It is also a perfect place to have some peace and quiet with your spouse or some fun activities with your kids.
Besides being an excellent place for some fun and entertainment, well-constructed outdoor additions also beautify your home. These home additions also significantly increase your home's market value. A deck is a relatively inexpensive home renovation that significantly boosts the value of your home.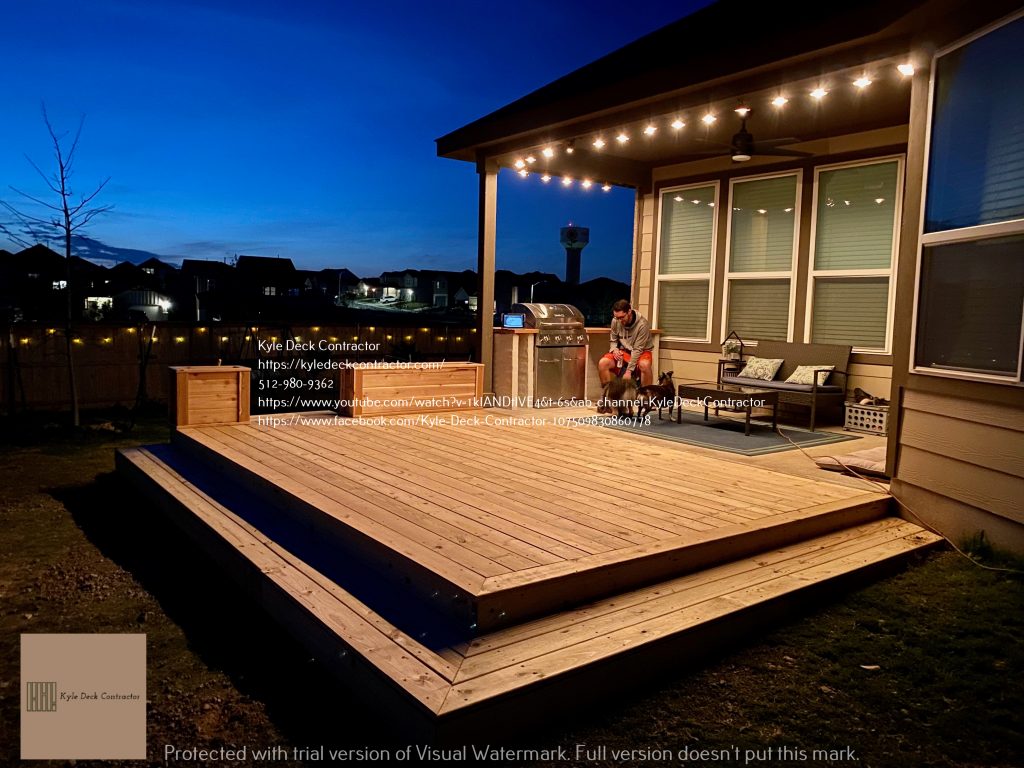 About Kyle Deck Contractor
The benefits of a deck, pool deck, pergola, and the like, greatly depend on how well-constructed they are. When you choose Kyle Deck Contractor for your outdoor projects, you get the best deck possible. Our team of experts efficiently builds the deck, patio, and/or pergola you want for your home. We provide great craftsmanship that meets all regulations. Additionally, we use the best materials and create the sturdiest construction at the most reasonable price. It is important to work with professionals who are reputable deck builders. Therefore, choose Kyle Deck Contractor. We are the best deck contractor, in Kyle, Texas and the surrounding areas.
Pool Deck Contractor and Residential Deck Builder
We are the pool deck contractor Kyle residents seek for their pool deck construction. Our builders construct sturdy pool decks that perfectly complement your swimming pool. Kyle Deck Contractor builds pool decks that are beautiful. Additionally, they provide a wonderful venue for pool parties. Our pool decks are also great for poolside lounging. Most importantly, we add necessary safety features to ensure that you enjoy pool time without worry. We are the expert pool deck contractor you need. Kyle Deck Contractor is the pool deck builder that creates well-constructed pool decks that are beautiful and safe.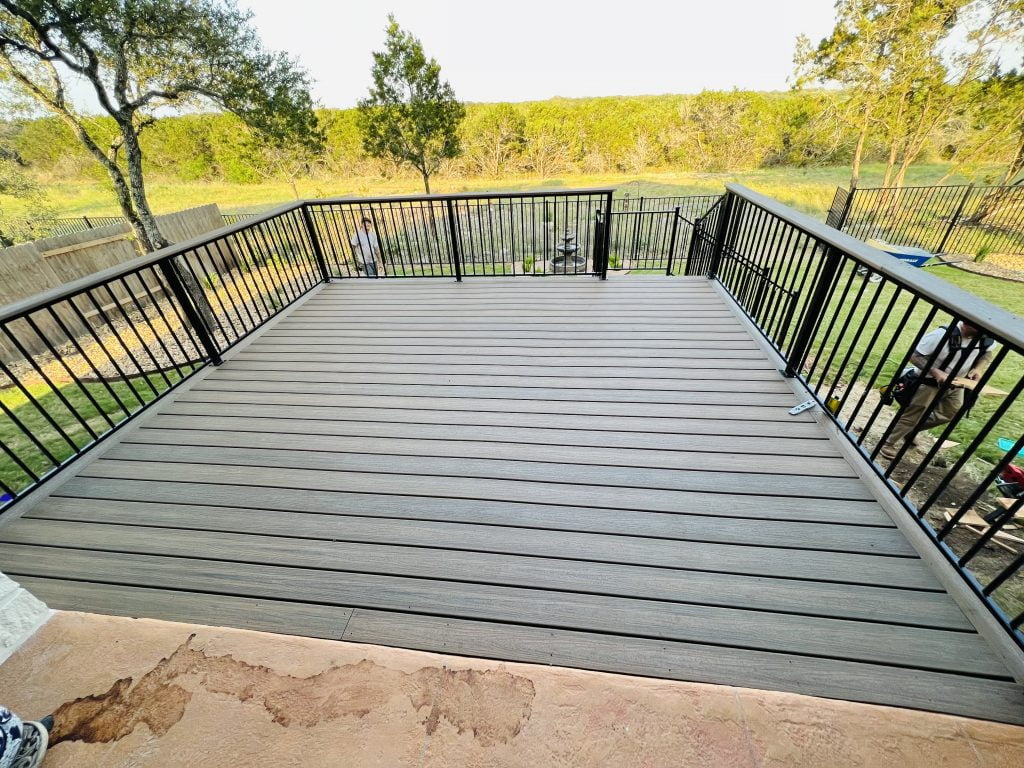 Homeowners want beautiful home additions that are spacious and durable. Additionally, we understand people need projects to be completed within their budgets. In order to meet those needs, we build high-quality and beautifully designed decks for every budget. We work closely with our valued clients in every step of the building process. Kyle Deck Contractor partners with you, beginning with the planning and designing, down to the last finishing touches. Our designers create the deck you desire for your home. We turn your vision into a functional deck of great comfort and admirable craftsmanship.
Our Specialties Include
We build commercial decks Kyle business owners believe help their business. Our team conscientiously works to be the best commercial deck contractor in Kyle, Texas. We are known for efficient and professional work. Kyle Deck Contractor creates stylishly functional commercial decks and other outdoor buildings. We understand and respect the hard work you do for your business. Working within your allotted budget we give you the best projects within the projected time frame.
In addition to aesthetics and functionality, deck repair is very important for safety. Your safety is our priority. Therefore, we make sure to address any structural concerns before they becomes a major problem. We are the perfect choice for the best deck repair Kyle has to offer. With the proper licenses and insurance, we are ready to help. Most importantly, our team of deck repair experts has the the training and experience to ensure the best results for your deck repair projects.
Outdoor Kitchens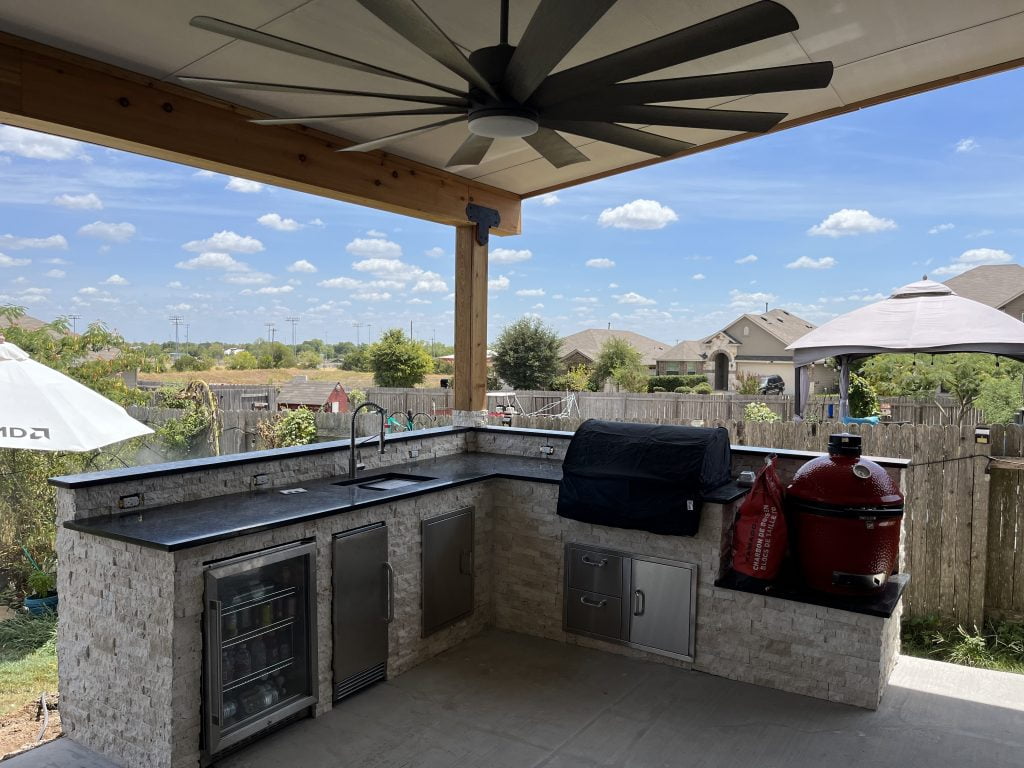 Kyle Deck Contractor not only specializes in deck building and carpentry, but our team also includes concrete experts. This means that not only do we build exceptional wood structures, but our crew creates fantastic outdoor spaces with concrete as well. Our favorite way to transform backyard spaces is to add an outdoor kitchen. Using stone, brick, and concrete there are endless ways to add style and functionality in the creation of an outdoor kitchen.
Kyle Deck Contractor is the premier outdoor kitchen contractor for your backyard projects. Our team are experts in producing cutting edge concrete design, and our stonemasons are the best of the best! Hire us for a functional and contemporary look for your exterior spaces.
There is nothing more fun than entertaining, cooking, and eating, and outside. You need an outdoor kitchen! Our designer excels at taking a modern approach to all things concrete, especially outdoor kitchens. The possibilities are endless. Add countertop space, a fire pit, pizza oven, refrigerator, sink, wet bar or many other options. Of course, we always recommend outdoor lighting and fans to complete the atmosphere. Give us a call. Let Kyle Deck Contractor build you the outdoor kitchen of your dreams.
Pergolas Kyle Texas
Kyle Deck Contractor is a sought-after pergola designer. Our reputation as a pergola builder is built upon our ability to take our clients' vision and create a unique design that exceeds all expectations. Additionally, we provide various choices, from features to materials and colors. Our crew builds pergolas for whatever purpose requested. The possibilities are endless. Perhaps you would like a walkway that doubles as a space to exhibit your plants. Consider a simple pergola for shade. An intricately-designed pergola complements your landscape and provides a great place to take pictures.
Adding a pergola to your commercial property provides a place for customers to take pictures and tag your business. The beautification of your place of business encourages customers to spend more time there. As you can see, we are passionate about pergolas! Therefore, call us today to discuss how Kyle Deck Contractor can build a lovely pergola for your property.
Deck Staining Kyle
Our clients are always incredibly satisfied with the deck staining Kyle Deck Contractor provides. The members of our team are exceedingly trained and skilled in deck staining. Because we have mastered the various staining techniques, we have an excellent eye for the best stain that fits your residential or commercial deck. Kyle Deck Contractor takes great pride in all our finished projects. Therefore, high-quality deck staining is the perfect finishing touch to each of them. Additionally, we provide deck staining to revitalize an older, weathered decks. Whatever deck staining needs you have, Kyle Deck Contractor is the company for the project.
Build a Covered Patio
Covered patios make for great entertaining and lounging spaces. Expertly designed covered patios add character to your home or business. We are the best contractor for building covered patios. Our commitment to finding the perfect balance between beauty and functionality produces the best product. Kyle Deck Contractor has built covered patios for many homes and various commercial establishments. Our designers and architects are greatly skilled in matching structures with the home's or business's architecture. Whether it is meant to stand out or to blend in with its surroundings, we create a seamless and beautiful product.
Customer Service
Our company provides people an affordable and reliable way to beautify their homes and businesses. At Kyle Deck Contractor we strongly believe in working together and coordinating with our clients in every step of the process. This ensures we meet all of the client's needs and expectations. Treating each client as a priority, we provide tailor-made services. We have built hundreds of decks, but we know that every deck and structure should be built to the unique design and requirements for each customer. Client satisfaction is a top priority for us because we guarantee our work and deliver what we promise.
Our team members are skilled and professional. We encourage courtesy, honesty, integrity, and efficiency in our teams. Also, Kyle Deck Contractor is profoundly committed to providing only the best results, including the best customer service. Our team aims to give you all the assistance you need. And that doesn't stop when the project is finished. Additionally, we provide maintenance and repairs services. Contact us with questions you have about our decks, patios, pergolas, or any other structures we build. Kyle Deck Contractor cares deeply for our customers and you experience exceptional customer service every time.
Our Reviews
"We have the most wonderful Sunday brunches and family time in our gorgeous new deck. Thank you so much to everyone from Kyle Deck Contractor."
Amelia Cooper
"The covered patio they built for our restaurant is the most requested place to sit. Our customers love the design and often ask who built it."
George Reed
"Kyle Deck Contractor built our pool deck, and our kids love it. They also built a pergola that is my favorite reading spot. These guys do wonderful work."
Mia Bernard
"Recently, we have some work done on our home, and our deck looks like new. They are fast and professional." Noah Evans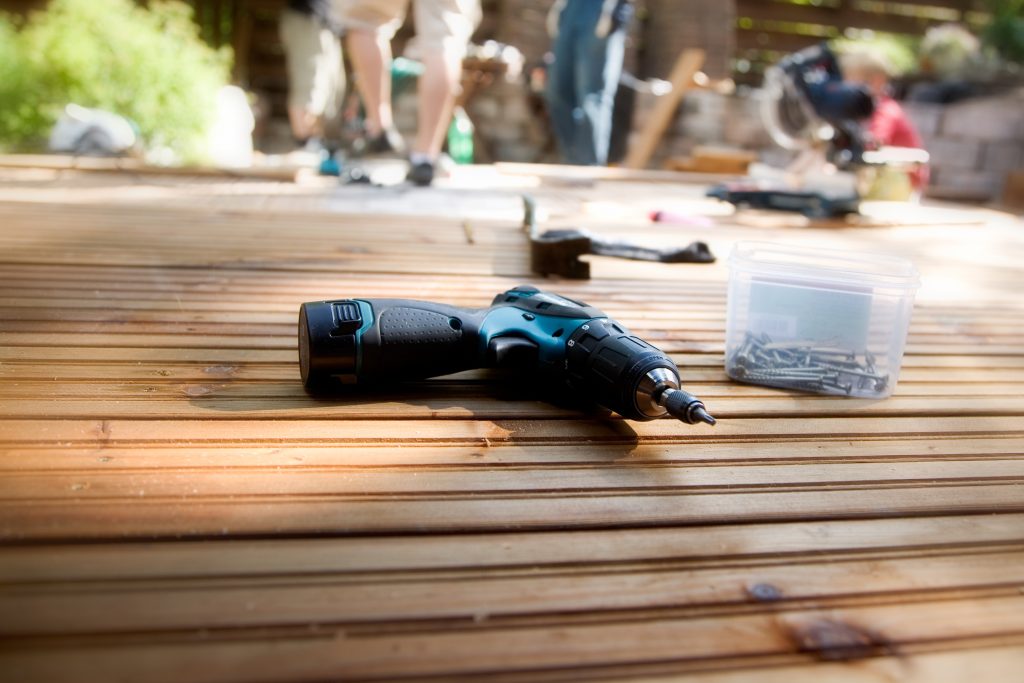 Call For a Free Consultation Today
As you can see, we are not mere deck builders. Therefore, Kyle Deck Contractor has the experts you need to build the perfect outdoor structures you desire. Our team of experts work to provide you with the deck, covered patio, or pergola of your dreams. The projects we complete perfectly represent your preferences and seamlessly fit with your existing architecture or landscape design. Using only high-quality materials, and top-of-the-line tools, we ensure outstanding results. Additionally, we efficiently work within your budget, finish within the projected time frame, and guarantee the best customer service.
Kyle Deck Contractor is here to transform your outdoor space into an extraordinary reality. Book a free consultation today. Let's discuss how we create beautiful outdoor spaces for your home or business. Get in touch with us at 512-980-9362 today.