Hire Kyle Deck Contractor to be your covered patio builder. The hot Kyle sun, an occasional cold front, or a rain storm prohibits you from spending time outside. However, with a covered patio, you are protected from the weather. Parties are not cancelled when you are under a spacious patio cover. Congregate around a fire pit to keep warm. Additionally, installing fans to cool off when relaxing makes being outside enjoyable in the summer. With a covered patio, fans and lights are easily installed to extend the amount of time you gather in the beautiful outdoors. Give you family the gift of nature by hiring Kyle Deck Contractor to be your covered patio builder. Transform your backyard into a place to gather any time of the year.
Unique Styles of Covered Patio Construction
There are various styles of covered patios. Many of our clients choose to build a patio cover with wood. This is due to its standard and classy look. It adds another layer of coziness and comfort, transforming your backyard into a place to spend lots of time. Wood's natural character is gorgeous and sturdy. When seasoned, stained, and taken care of, it lasts a lifetime.
We are the covered patios Kyle specialists. Our team of designers carefully create the plans for the outdoor space you desire. We take into consideration all technical aspects of building the base, posts, and roof to produce the most stable structure. Our carpenters also brilliantly incorporate aesthetics into the patio's overall desired functionality. Whether you have a relatively small space or a very big area, we accommodate your needs. Naturally, we happily include any special requests or specific instructions you have for your covered patio.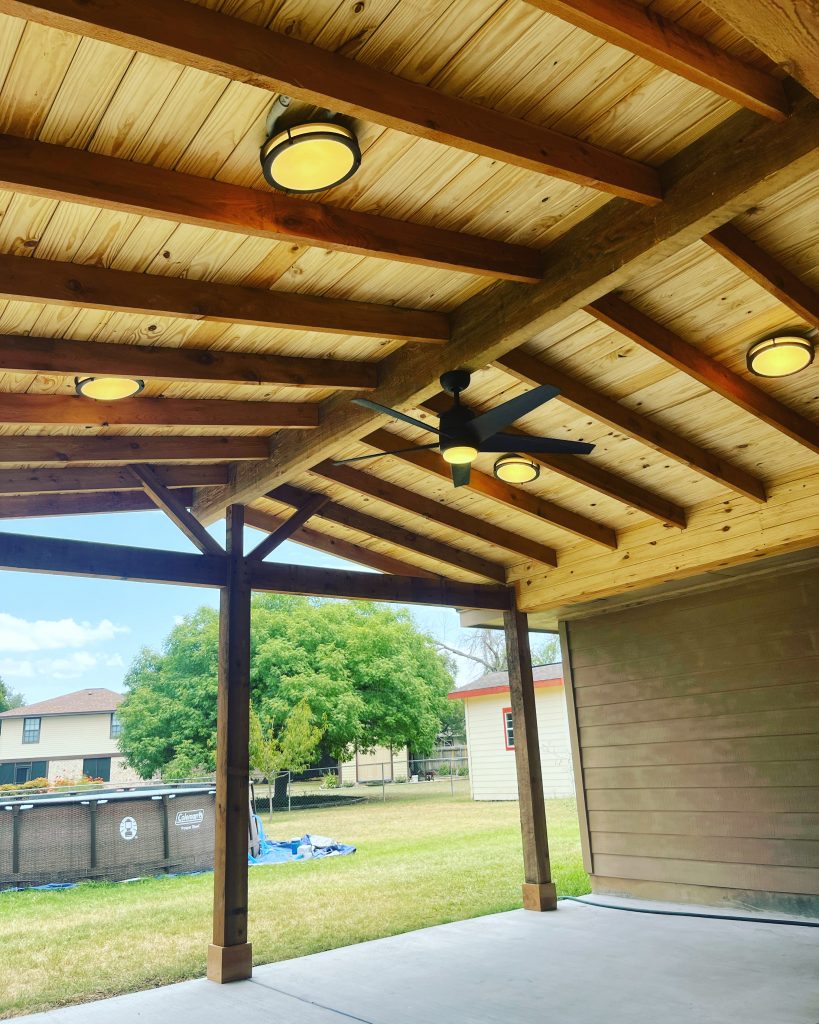 We can help with the foundation under the patio cover.
Although building a deck under your patio cover is our favorite way to design an outdoor space, we offer other options. Concrete is a durable and sturdy base for a covered patio area. Our professional covered patio builders are privy to the right mix of cement, gravel, and sand to guarantee its durability. Kyle Deck Contractor also strategically constructs bases, expansion joints, and compaction to avoid cracking.
When considering covered patios Kyle TX residents instantly think of decks, concrete, or bricks as a base. After all, these are the most commonly used materials for patios in most neighborhoods in the city. However, that doesn't necessarily mean the base has to have even surface or compact construction. Some people prefer loose gravel or a combination of gravel and concrete or bricks for the area under the patio cover. In terms of installation costs and maintenance, this option is the cheapest of all. Additionally, the needed materials for a gravel base are easy to acquire. Placement and installation time is considerable less.
Covered patios add great value to your home and outdoor space. Therefore, it is very important to hire experienced and skilled builders. Kyle Deck Contractor is the best covered patio builder Kyle Tx has available. Contact us to discuss the construction of this most desirable addition to your property.