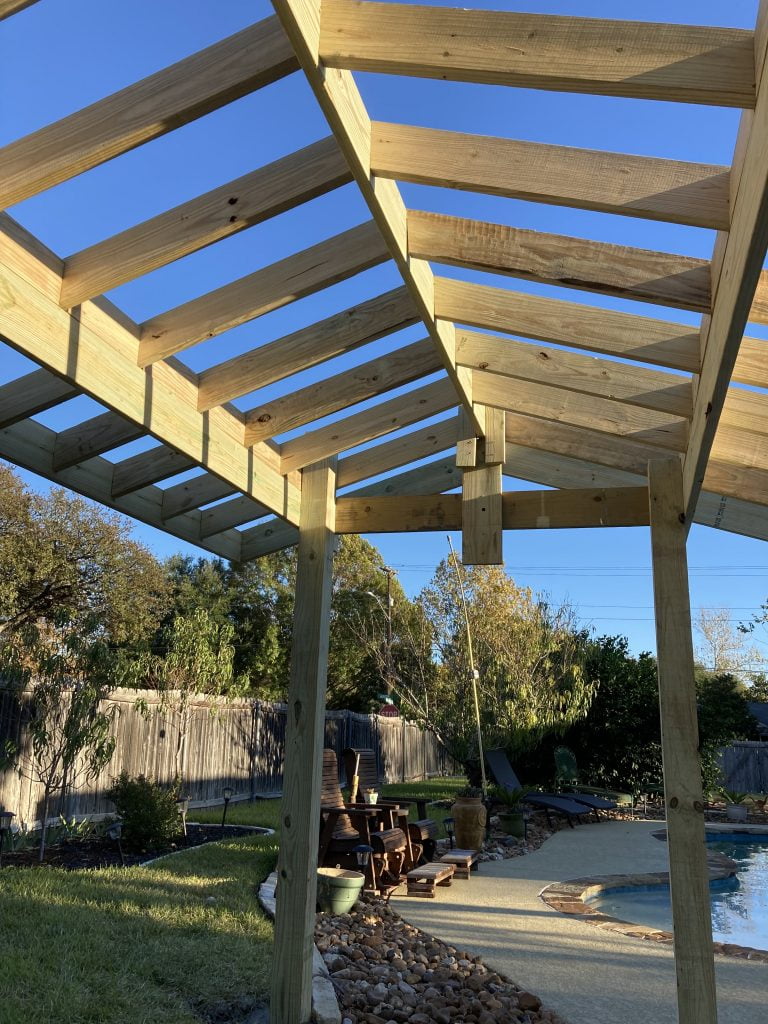 Kyle Deck Contractor is the pergola builder in Kyle, TX for your outdoor area. Have you always wanted a romantic garden walkway? Consider a dramatic pergola to provide picturesque shade for your home or commercial property. People will gather under a beautiful pergola, take pictures together, and tag your property for social media posts. This increases notoriety and popularity. Additionally, pergolas provide a lovely place to rest in the outdoors. These structures are designed to provide partial coverage with open areas to view the beauty around you. Therefore, contact us to begin planning the addition of a pergola to your property.
Provide Shade
The pergolas Kyle residents love are those that have cross-beams and lattice. Though technically the structure isn't built with solid walls and compact roofs, it's often used to provide shade. Adding vines or using sheer curtains create a perfect spot to enjoy some privacy with nature.
Kyle Deck Contractor builds pergolas with durable beams and posts to be able to withstand extreme weather conditions. We also strategically place the structure in the area that maximizes the shade it offers. Additionally, consider having our deck building experts build a deck beneath this addition. When pergolas are constructed over a deck, it brings style and functionality together to create the most desirable outdoor space possible. Call us, the most qualified and skilled pergola builder in Kyle.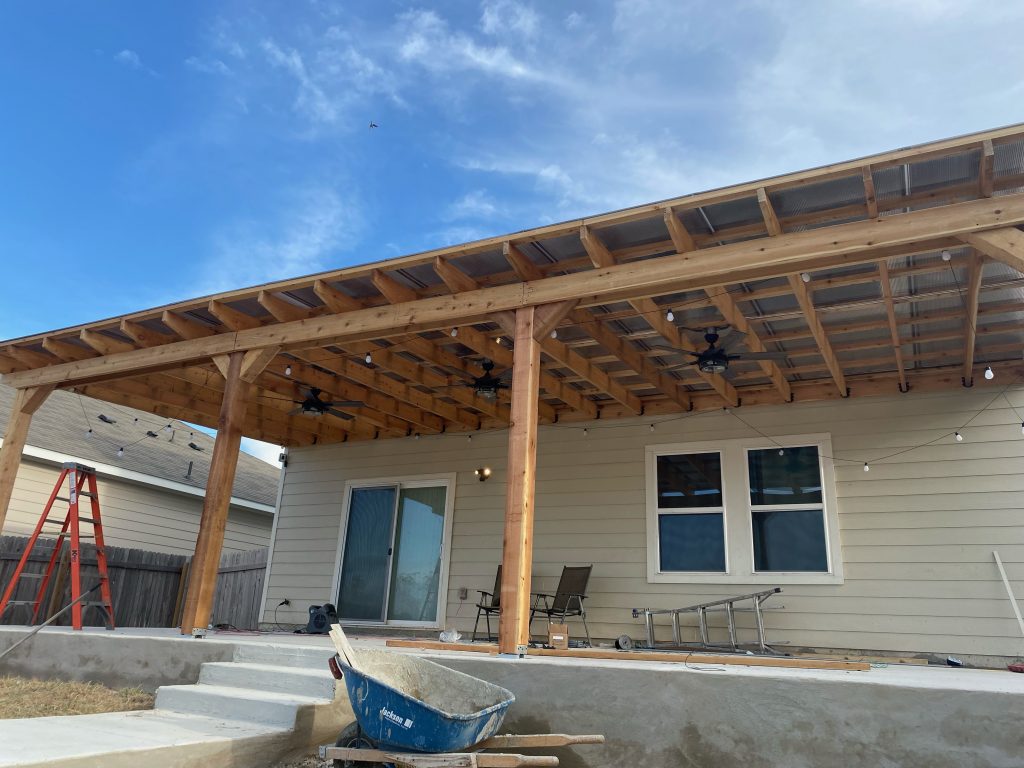 Pergolas upgrade your landscaping.
If you're an avid fan of landscapes and gardens, a pergola or an arbor is undoubtedly part of your wish list. Specifically, a pergola is an ideal hardscape to include in your outdoor space. It serves as both shelter for you and a place of growth for plants. Your greens and vines freely sprout and crawl through the beams and posts of a pergola.
Many of our pergola construction projects are a part of larger landscaping designs. We occasionally work with brilliant and creative landscape artists to blend our structures with the clients' landscaping plans. A pergola is a classy and elegant way to upgrade your garden. Aside from providing shade and privacy, it also serves as an exquisite accent to your outdoor space. It gives a rustic and cozy ambiance that helps you enjoy your landscape more.
As you can see, pergolas are also an affordable way to create an additional living space that is exquisitely lovely. When properly and professionally built, a pergola adds value to your property. Therefore, adding a structure like this is a great investment. Additionally, depending on the construction materials used, pergolas require minimal to no maintenance. Kyle Deck Contractor is the Kyle pergola builder for your outdoor projects.
These structures are functional additions to your property.
Aside from look and design, residents in Kyle Texas also enjoy the functionality of pergolas. Many homeowners view these structures as something they use, not just an accent or accessory. They use pergolas as a cover on pathways, a shaded spot to rest after gardening, a refreshing place to host visitors, or an accessible venue for special or minor occasions.
We have an array of pergola designs and materials to choose from. Several pergola designs include, but are not limited to: open-roof, covered-roof, sail, gabled or pitched pergola.